Kingston housing market to favour sellers in 2021, prices expected to rise 10%

The
Kingston housing market
is in store for another seller's market in 2021, thanks to continuing challenges in housing supply, growing demand and rising prices. Low inventory has been a common trend across many Ontario housing markets, putting upward pressure on prices.
Indeed, single-detached homes in Kingston saw prices
rise to an average $464,083
in 2020 (Jan. 1-Oct. 31) compared to $417,578 in 2019 (Jan. 1-Dec. 31). During the same period, the average price of condominium properties in the region
declined to $330,768
, from $339,867 in 2019 (Jan. 1-Dec. 31). Low supply and rising prices are expected to be a continuing factor in 2021 market activity. Thus, the RE/MAX outlook for Kingston real estate is a
10% increase in average price to $510,491
across all property types, with sales expected to remain on par with 2020 levels.
Kingston currently has 1.3 months of inventory – a number that has been dropping every month, with more of the same expected for 2021. RE/MAX expects 2021 sales to remain on par with 2020 activity, and days on market will likely decline due to high demand in the region.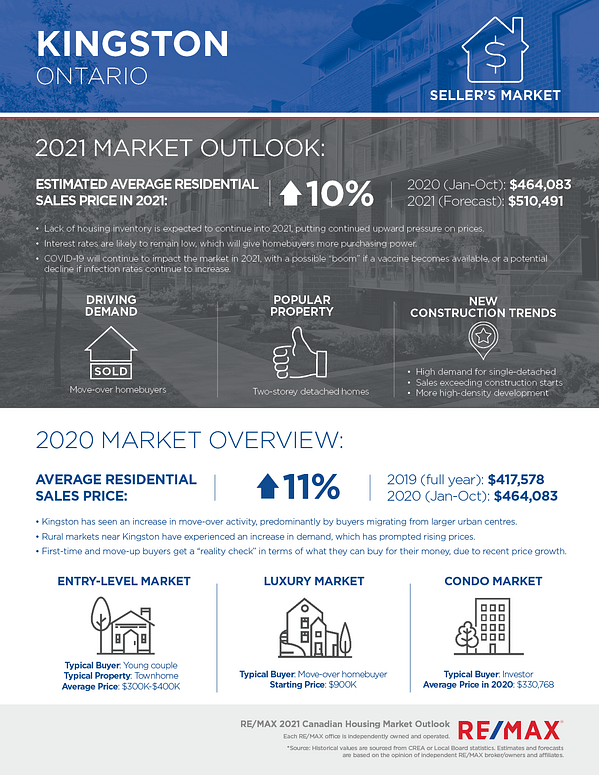 Who's driving the Kingston housing market?


The Kingston real estate market has been experiencing a lot of "move-over" activity in 2020, with Kingston locals moving further out into more rural regions, and out-of-towners leaving larger urban centres in favour of Kingston's lower price point. Move-over buyers are expected to continue driving the market forward in 2021, commonly seeking out two-storey detached homes, which is the prominent building type in the area.

First-homebuyers entering the Kingston housing market are typically young couples seeking townhomes in the $300,000 to $400,000 price range. These buyers are being challenged by low inventory and rising prices, which are being further exacerbated by increased demand from out-of-town buyers. These conditions are expected to continue into 2021.
Move-up buyers in Kingston, typically families, are showing some hesitation due to lack of inventory and the risk of not finding a home to move into once their existing home has sold. Limited supply and rising prices will continue to be an obstacle for move-up buyers in 2021.
Due to the inventory shortage, many homebuyers in Kingston have adjusted their expectation and are willing to accept minor defects if it means securing a home.
Kingston's condominium market is expected to see some new supply coming on stream in 2021, however condos are generally not a significant market segment in the area, although this property type is beginning to increase. The biggest market driver for condominium properties in Kingston has been investors who are using their units as rentals for students attending Queen's University.
The luxury property segment in Kingston is being driven by out-of-town buyers, who are able to buy more home for less money. Low supply, high demand and rising prices have characterized the luxury segment in 2020, which is expected to be a long-term trend.
Kingston new-home construction


Rising demand for Kingston's resale housing market is spilling into the new-homes segment, which cannot seem to build fast enough in order to satisfy current demand. This is expected to continue into 2021. New-construction starts are up, but so are sales, with too few homes being built to meet current demand. New homes are generally priced higher than their resale counterparts, due to the rising cost of construction in the wake of COVID-19. Condo, townhome and semi-detached developments have increased in a move for higher-density housing, however single-detached homes remain in highest demand in the area.
Contact us
 to learn more about new-home construction from Kingston's most trusted home builder: 
CaraCo
.
Canadian housing market in 2021
Canadians are on the move. RE/MAX isn't calling this an "exodus," but the re-location trend across the Canadian housing market is real, and it's just one focus of the RE/MAX
2021 Housing Market Outlook Report
. RE/MAX Canada anticipates healthy housing price growth at the national level, with move-up and move-over buyers continuing to drive activity in many regions across the Canadian housing market. An ongoing and widespread housing supply shortage is likely to continue, presenting challenges for homebuyers and putting upward pressure on prices.
Sources: RE/MAX Canada & Lydia McNutt, PR & Content Manager | RE/MAX Canada
https://blog.remax.ca/kingston-housing-market-outlook/
https://blog.remax.ca/canadian-housing-market-outlook/